Prostitute, risse e malfattori nella vita e nelle opere di Michelangelo Merisi
4 maggio  biblioteca Sant'Ambrogio di Milano un incontro"lezione spettacolo" su Caravaggio,
ingresso gratuito ore 18.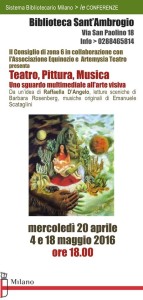 Born in May '06, the association EQUINOZIO, legally recognized  as an Association of Social Promotion, with the participation of artists, journalists and teachers, offers training and promoting artistic events , in collaboration with associations, institutions , libraries and theaters, creating " cultural circuits ."
Equinozio produces cultural and artistic activities : working with institutional partners , in Italy and abroad:
– EAT ART: Equinozio, in partnership with three European cultural associations, organized in Milan, in October 2015, EAT ART: exhibitions, performing events and residencies of artists inspired on food and art. Eat art is a part of the biggest project OpenHub Europe, founded by UE Creative Europe, between cooperation projects. Other sponsors: Consulate of the Republic of Poland, Coop Lombardia, Comune di Milano and Fondazione Cariplo.
– Video-concerts and theaters events: that circuited in prestigious theater festivals as Fringe Festival in Rome, Santarcangelo di Romagna and Festival La Strada in Brescia, as well as in cultural Centers and Universities.
– Projects of readings/music in Milan libraries, which have received support from the City of Milan, the Lombardy Regional Council and the Cariplo Foundation.
– Performances of music, poetry and images dedicated to Italian culture supported and hosted by Associations and Italian cultural institutes abroad as the Institute Dante Alighieri of Graz, Vienna, Unna, Wuppertall, Augsburg, the Institute of Italian language in Paris, The association Ostrale from Dresden and that will take place during 2016, in Wroclaw (Po) and in Aalst (Be).
– Appetizers literary, film clubs, concerts of classical music in collaboration with the Civic School of Music in Milan Claudio Abbado, organized at the request of municipalities and cooperatives, as Coop Lombardia
– Cultural projects in partnership with leading fashion Brand, as Marni, Just Cavalli and Yoox
– Music for dance, working with circuits dance on the territory as CLAPS of Brescia.
Equinozio creates also training and develops projects of social cohesion in cooperation with major institutional partners, like :
"It's never too late": project based on development and implementing training activities for "people over '60" in public libraries of Milan produced with the assistance of Cariplo Foundation and the Municipality of Milan. In this occasion Equinozio has organized laboratories for "people over '60" and has provided conferences and workshops in creative writing , computer and internet, games , entertainment for grandparents and grandchildren. Partners: Fondazione Cariplo., Municipality of Milan
"Bibliocinema": a film club for children in city libraries, which involved grandparents and grandchildren in the vision of educational films
"Bibliopoesia" to bring poetry in public libraries in the suburbs.
"On the Threshold", Association Equinozio has designed and produced a film club for people detained prison of San Vittore. (partners: Arci Milano and cooperativa A & I, Bicocca University)